What Do The Hurricane Categories Actually Mean?
7/12/2021 (Permalink)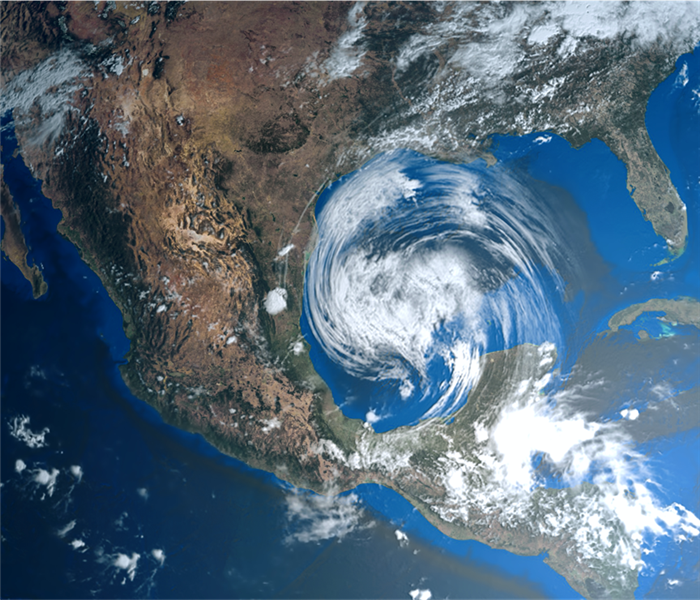 When it comes to severe weather events like hurricanes, it's always good to know what we're up against.
Hurricane season in Oklahoma typically begins around June 1 and lasts until November 30, with an increase in August and hitting its peak in September.
Hurricanes are categorized by the Saffir-Simpson Hurricane Wind Scale, which is rated 1 to 5 based on maximum ongoing wind speed. The scale was developed in the 70s by Herbert Saffir, an engineer in Miami, and Robert Simpson, a meteorologist and former director of the National Hurricane Center.
The scale doesn't factor other hazards that result from hurricanes such as storm surges, flooding and tornadoes, but it does estimate the probable damage of property. Although category 3 or higher are known as major hurricanes, all categories have the ability to result in major damage.
At SERVPRO of Central Oklahoma City, we're committed to understanding the storms our communities are enduring and finding practical solutions and preventative measures for each scenario. Here's a rundown of the different categories of hurricanes to watch out for:
CATEGORY 1 — Winds are 74 to 95 mph
Winds are considered very dangerous and expected to produce some damage. Homes with well-structured frames might suffer roof damage, large tree branches could snap or trees with shallow roots may fall over. If power lines or poles are damaged, it could result in power outages lasting up to several days.
CATEGORY 2 — Winds are 96 to 110 mph
Winds are considered extremely dangerous and expected to cause extensive damage. Houses may endure major roof damage and trees could easily snap or be uprooted, blocking roads. It is expected for an almost total power outage to occur and last up to a few weeks.
CATEGORY 3 — Winds are 111 to 129 mph
Winds are expected to cause devastating damage. Framed homes will suffer major roof damage including removal of parts of the roof. Trees are easily snapped and uprooted, blocking major roads. Electricity and water expected to be unavailable up to several weeks post-storm.
CATEGORY 4 — Winds are 130 to 156 mph
Winds are expected to cause catastrophic damage. Houses will experience severe damage including a loss of the majority of the roof structure as well as exterior walls. Trees will be snapped and uprooted along with power poles, isolating areas in the community. Power outages can last up to months and the area will remain uninhabitable for weeks to months.
CATEGORY 5 — Winds are 157 mph or more
Severe winds are expected to cause catastrophic damage as well. Houses will be destroyed, including total roof failure and collapse of walls or structure. Trees and power poles that have fallen will isolate communities. Outages are expected to last for weeks or months as well as the area being uninhabitable for quite some time.
SERVPRO of Central OKC hopes to serve the community by providing this knowledge for people to understand and take action in protecting them against potential storms. The best thing to do to protect yourself and your loved ones is evacuate these areas vulnerable to dangerous storms.