The Basics of Water Damage
3/22/2023 (Permalink)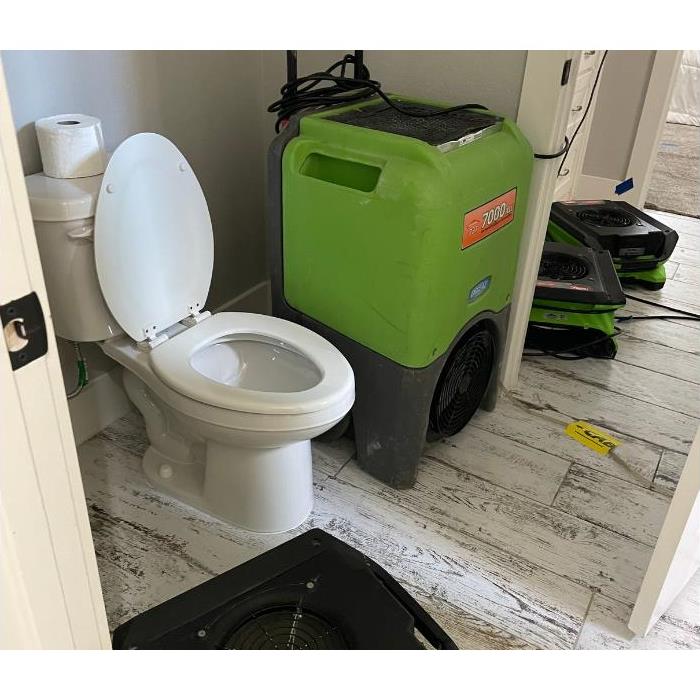 client had a toilet leak that caused water damage to the residential property, we quickly placed dehumidifiers to removed the remaining mositure
Water damage is a widespread issue that can be caused by many different causes. Pipes break, sinks and toilets overflow, roofs leak, and more can all lead to this problem.
When homeowners experience water damage, it's essential they contact SERVPRO of Central Oklahoma City immediately. We're specialists in cleaning up and restoring properties that have been affected by floodwaters.
Water damage restoration begins with an inspection and assessment. Whether due to a burst pipe or natural disaster, conducting an exhaustive examination is paramount in order to safeguard your home and personal belongings from further harm.
A comprehensive assessment can accurately measure the extent of water damage, identify potential hazards and craft a strategy to resolve them. It also serves as an essential step when filing insurance claims and scheduling repairs.
If you detect signs of water damage, don't hesitate to contact a reliable restoration company like SERVPRO of Central Oklahoma City. We will guide you through the process of repairing your property quickly and effectively.
Once an initial assessment is conducted, SERVPRO will provide you with an assessment of damages and an estimate for cleanup and restoration costs. This information can be invaluable when dealing with insurance companies or contractors eager to begin work as quickly as possible.
Once the damages have been identified, technicians can begin to extract moisture. They may use equipment like air movers and dehumidifiers to expedite this process.
This process is necessary to prevent hidden mold growth from taking hold. Mold poses a serious health hazard, potentially leading to respiratory illness and allergies.
Water damage, if left unchecked, can have devastating effects on a structure and even lead to collapse. If left unchecked, water damage could potentially destroy everything in its path.
Water damage is one of the most hazardous scenarios that can happen to a residential or commercial property. Not only does it cause extensive structural damage, but also damages furniture and other belongings as well as opening the door for mold growth.