The Science Behind Putting Out a Fire
7/26/2021 (Permalink)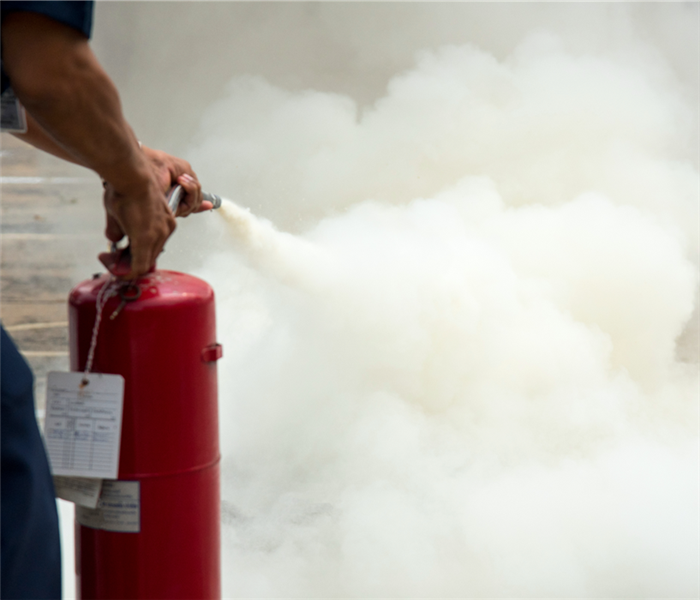 When it comes to controlling, and ultimately extinguishing, a fire, it's helpful to know what you're dealing with.
As the summer goes on, the chance for a fire to ignite continues — whether it be from a grilling accident or the heat of the sun.
Fire can easily destroy a home or business in minutes, so it's important to understand the basics behind putting out a fire.
At SERVPRO® of Central Oklahoma City, we value your safety and hope to educate you on potential threats to your safety.
What is fire?
First, we must understand how fire works. Fire is a chemical reaction — combustion, to be exact. Flammable substances will combine with the oxygen in the air to produce water, carbon dioxide and waste gases, creating a lot of heat.
This doesn't happen spontaneously. Typically, there must be something to ignite fire, which is found in activation energy (produced by a spark, match, the sun or an overheating machine).
The fire triangle and how to break it
It's important to understand that there are three elements that must be present for a fire to ignite:
Fuel (the substance that will burn, like wood or coal)
Oxygen (from the air)
Heat
To stop a fire, you have to remove one of these elements.
In order to remove heat, it's best to dump some water on the fire. This cools the fuel down to below the ignition temperature, putting a pin in the combustion cycle. If you want to remove oxygen, you can smother the fire to prevent its exposure to air. You can do this by covering the fire with a heavy blanket or dumping nonflammable substances on it such as sand or baking soda. Removing fuel is much more difficult, especially in house fires as the house itself counts as fuel. Typically, fuel will only be removed after the fire has burned it up.
The usual way of putting out a fire is by using a fire extinguisher, which is basically a giant aerosol. Though there are different types of extinguishers, most of them fight the fires by separating the fuel from the oxygen.
In all circumstances, make sure to take preventative and proactive measures to keep yourself and your loved ones safe. And be sure to call SERVPRO® of Central OKC with any fire restoration needs: (405) 252-9400.